Cool Utility to get CPU/Fan Temperatures of you DELL Laptop/Notebook
Dell Inspiron 8x00 fan control utility by Christian Diefer
I don't know why DELL doesn't have a utility you can use to read the CPU/Fan Temperatures of you DELL Laptop. I have an Inspiron 1100 and this little utility works perfectly. It even allows you to control the Fan speed.
Get It Here: http://www.diefer.de/i8kfan/index.html
He even has a command prompt version you can use. There is a full compatibility list of all the DELL Notebooks that this utility will work with.
I have to say, Great Job Christian!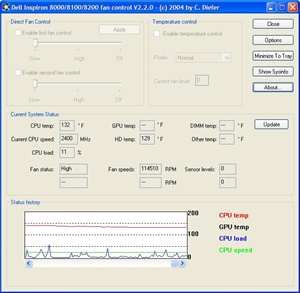 Recent on Build5Nines.com
Legal Disclaimer
This site is a participant in the Amazon Services LLC Associates Program, an affiliate advertising program designed to provide a means for sites to earn advertising fees by advertising and linking to Amazon.com. We also participates in affiliate programs with Udemy, and other sites. This site is compensated for referring traffic and business to these companies.