Proposed DotNetKicks Redesign!
The current skin of DotNetKicks just isn't quite there. It doesn't look as cool as it could. And I'm sure it's just because the time hasn't been spent to make it look good. So, I thought I'd put together a mockup design that is based off the current design, but with some improvements. I like it, but the test is if any of you like it too. Let me know what you think.
Current DotNetKicks: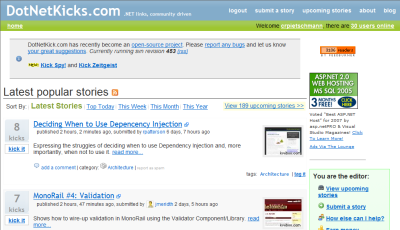 Proposed Redsign for DotNetKicks: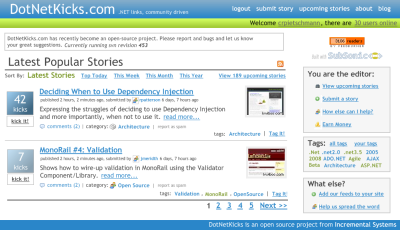 Download:
View Larger Image
Paint.NET .PDN File
By the way, the font I used is Trebuchet MS, its the same font that BlogEngine.NET uses.
If the decision gets made to change to this skin, I'll volunteer some time to help implement it. Let me know.
**Update 2007/9/29: **Thanks for all the feedback, here and on DNK! I didn't really think my design would get implemented; I pretty much did it to maybe inspire those with more graphic skills to come up with something better than the current design.
Recent on Build5Nines.com
Legal Disclaimer
This site is a participant in the Amazon Services LLC Associates Program, an affiliate advertising program designed to provide a means for sites to earn advertising fees by advertising and linking to Amazon.com. We also participates in affiliate programs with Udemy, and other sites. This site is compensated for referring traffic and business to these companies.