Virtual Earth 6 Bug: GetDirections breaks when Start and End Address are the same
When using the new GetDirections method to get multi-point driving directions everything works fine if the Start and End address are different. But it shows unexpected results on the map when plotting a multi-point route that has an End address the same as its Start.

Here's some sample code to reproduce this issue:

<!DOCTYPE html PUBLIC "-//W3C//DTD XHTML 1.0 Transitional//EN" "http://www.w3.org/TR/xhtml1/DTD/xhtml1-transitional.dtd">

<meta http-equiv="Content-Type" content="text/html; charset=utf-8"> <script type="text/javascript" src="http://dev.virtualearth.net/mapcontrol/mapcontrol.ashx?v=6"></script> <script type="text/javascript"> var map = null; function GetMap() { map = new VEMap('myMap'); map.LoadMap(); map.GetDirections(["Microsoft", "Everett WA", "Bellingham WA", "Microsoft"]); } </script> <body onload="GetMap();"> <div id='myMap' style="position:relative; width:400px; height:400px;"></div> </body>

Here's a screenshot of the results displayed on the map: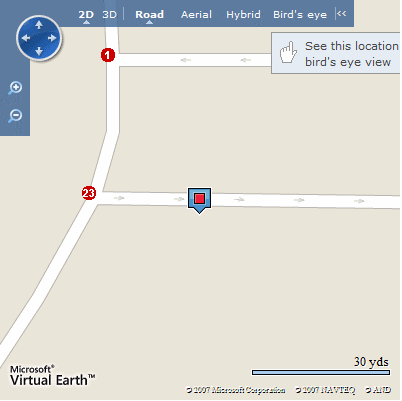 This is the third bug in Virtual Earth 6 that I've found since it was released almost 2 weeks ago.
This blog post is licensed under the Creative Commons Attribution 3.0 United States License, unless explicitly stated otherwise within the blog post content. All other content on this website is not licensed under Creative Commons licensing.