Bing Maps Ajax 7: Add a Simple Mini Map
The Bing Maps Ajax v7 control doesn't include support for adding a Mini Map. So, I decided to quickly work up a simple example of adding one. Below is the source code for it and a zip download of the code at the bottom of the post.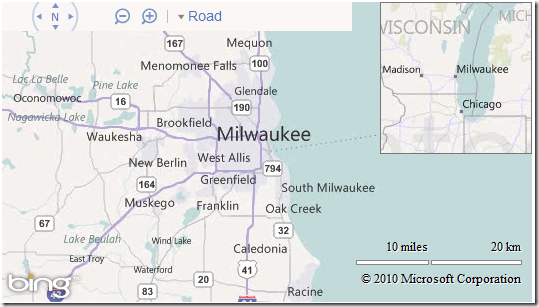 <h3>Source Code</h3> <pre class="csharpcode"><!DOCTYPE html PUBLIC "-//W3C//DTD XHTML 1.0 Transitional//EN" "http://www.w3.org/TR/xhtml1/DTD/xhtml1-transitional.dtd"> «/span>html xmlns="http://www.w3.org/1999/xhtml"> «/span>head> «/span>meta http-equiv="Content-Type" content="text/html; charset=utf-8" /> «/span>script src="http://ecn.dev.virtualearth.net/mapcontrol/mapcontrol.ashx?v=7.0" type="text/javascript" charset="UTF-8"></script> <script src="http://ajax.aspnetcdn.com/ajax/jQuery/jquery-1.4.4.min.js"></script> </head>

<div id=

"myMap"

style=

"position: relative; width: 530px; height: 300px;"

></div> <script type=

"text/javascript"

>

var

bingMapsKey =

"Your Bing Maps Key"

;

// Load the Main Map

var

map =

new

Microsoft.Maps.Map( document.getElementById(

"myMap"

), { credentials: bingMapsKey, mapTypeId: Microsoft.Maps.MapTypeId.road, center:

new

Microsoft.Maps.Location(43, -87.9), zoom: 9 } );

var

mapElem = $(map.getRootElement());

// Create DIV and add to Main Map

var

miniMapDiv = $('

'</span>). addClass(

'MiniMap'

). appendTo(mapElem);

// Position to the Top Right corner

miniMapDiv.css({ position:

'absolute'

, top: 0, left: (mapElem.width() - miniMapDiv.width() - 2) });

// Initialize Mini Map

var

miniMap =

new

Microsoft.Maps.Map(miniMapDiv[0], { credentials: bingMapsKey, showCopyright:

false

, showDashboard:

false

, showLogo:

false

, showScalebar:

false

});

// Attach Event Handler to Sync Mini Map with Main Map

var

syncMiniMap =

function

() { miniMap.setView({ center: map.getCenter(), zoom: map.getZoom() - 4 }); window.status = map.getCenter(); }; Microsoft.Maps.Events.addHandler(map,

"viewchange"

, syncMiniMap);

// Sync Mini Map

syncMiniMap();

</

script

>

</

body

>

</

html

>

</pre> Download:

BingMapsAjax7SimpleMiniMap.zip (1 KB)
This blog post is licensed under the Creative Commons Attribution 3.0 United States License, unless explicitly stated otherwise within the blog post content. All other content on this website is not licensed under Creative Commons licensing.