Deeper in .NET 2011 in Review with Pictures
I had a great time at Deeper in .NET 2011 this past Saturday. It was a day full of geek speak about .NET, HTML5, MVVM, Silverlight, IOC, Windows Phone 7 and more! Not only were the sessions great, but it was also an awesome opportunity to network with other local developers and recruiters.
A special thanks goes out to all those who helped organize and administer the event! (Too many to name and frankly I don't want to leave any one out.) Also, thanks must be given to the sponsors and speakers. The event would have never been what it was without all their effort! I'm sure everyone in the community who attended is with me in saying, THANKS EVERYONE!!!
I was lucky enough to win a small piece of the something like $265,000 worth of giveaways, as I won a Microsoft Arc Touch Mouse. I've been using this mouse the last couple of days, and it is one sweet mouse!
I also took a couple pictures of the event and used Windows Live Photo Gallery to create some panoramas to give people a good sense of the venue and attendance. I believe the attendance came to something around 275; which is awesome!



Here's a picture of the prize table with most of the prizes on display. Note that the mouse I won and some other prizes were already given away before I took this picture. Also, there were a ton of training subscriptions and other software given away that wasn't on the table as well!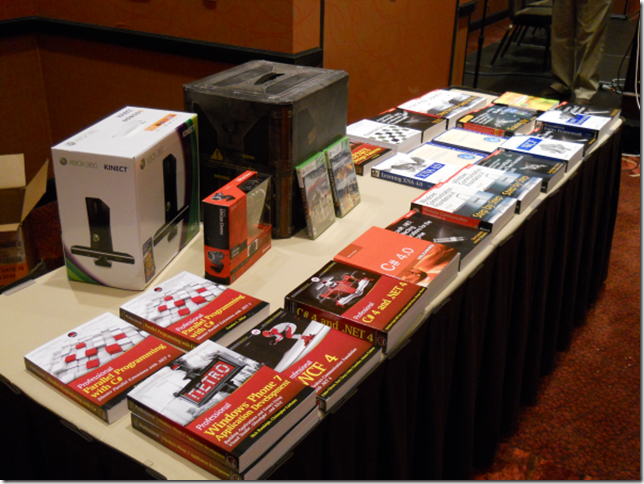 Again, thanks for such an awesome event! I can't wait until the next Deeper in .NET!
Recent on Build5Nines.com
Legal Disclaimer
This site is a participant in the Amazon Services LLC Associates Program, an affiliate advertising program designed to provide a means for sites to earn advertising fees by advertising and linking to Amazon.com. We also participates in affiliate programs with Udemy, and other sites. This site is compensated for referring traffic and business to these companies.