Windows 8 App: Simple Weight Log–My first Windows Store App
A few weeks ago I built and released Simple Weight Log (my first Windows 8 app in the store.) The app allows you to enter your weight in a log by date and it charts the different weigh-ins in a line graph to allow you to easily visualize weight changes over time.
View in Windows Store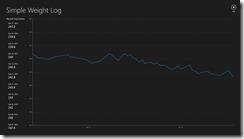 "Are you trying to loose weight? or, gain weight? If so, then Simple Weight Log will allow you to easily log and track metrics on your progress." <h3>Application Features</h3>
**Simple and easy to use
**I purposely built Simple Weight Log to be extremely simple so it would be the easiest to use Weight Log application in the market.
**Data syncs across all your Windows 8 devices
**The app utilizes the built-in Roaming App Settings to automatically sync the data across all your Windows 8 devices using the Microsoft Account you log into your computer with.
**Graphs weight history to show metrics over time
**There is no better way to easily visualize weight changes over time, than to plot your weigh-ins on a graph. <h3>Why a Weight Log?</h3>
I'm currently in the middle of a personal journey to loose weight and get in the best shape of my life. In this journey I need to be able to graph my weigh-ins over time; so I built a Windows 8 app to do it. Not only did I write an app to use myself, but I published it to the Windows Store for FREE so anyone in the world can use it. <h3>Coming Updates to the App</h3>
Even though the premise of the app is to remain extremely simple, I do plan on updating it to add more features over time. And, I'm not going to just think about what features to add all by myself. I have created a Feedback Forum over on UserVoice so anyone can suggest, vote for or comment on what features they think the app should have.
That's right! I'm looking to my users for what cool, useful, awesome features to add to the app. There have already been a couple users suggest and vote on feature suggestions.
Have a feature suggestion for Simple Weight Log?
The link to this feedback forum is also located within the app so users can always have easy access to it. <h3>Conclusion</h3>
In this first effort to build a Windows 8 app and get it published to the Windows Store; I have found the process to be very pleasant. As a result I plan on building more apps in the future.
In case you are wondering… Yes, the log entries in the screenshot are actual data I collected and entered into the app myself.
Ok, I encourage you to try the app out and tell me what you think.